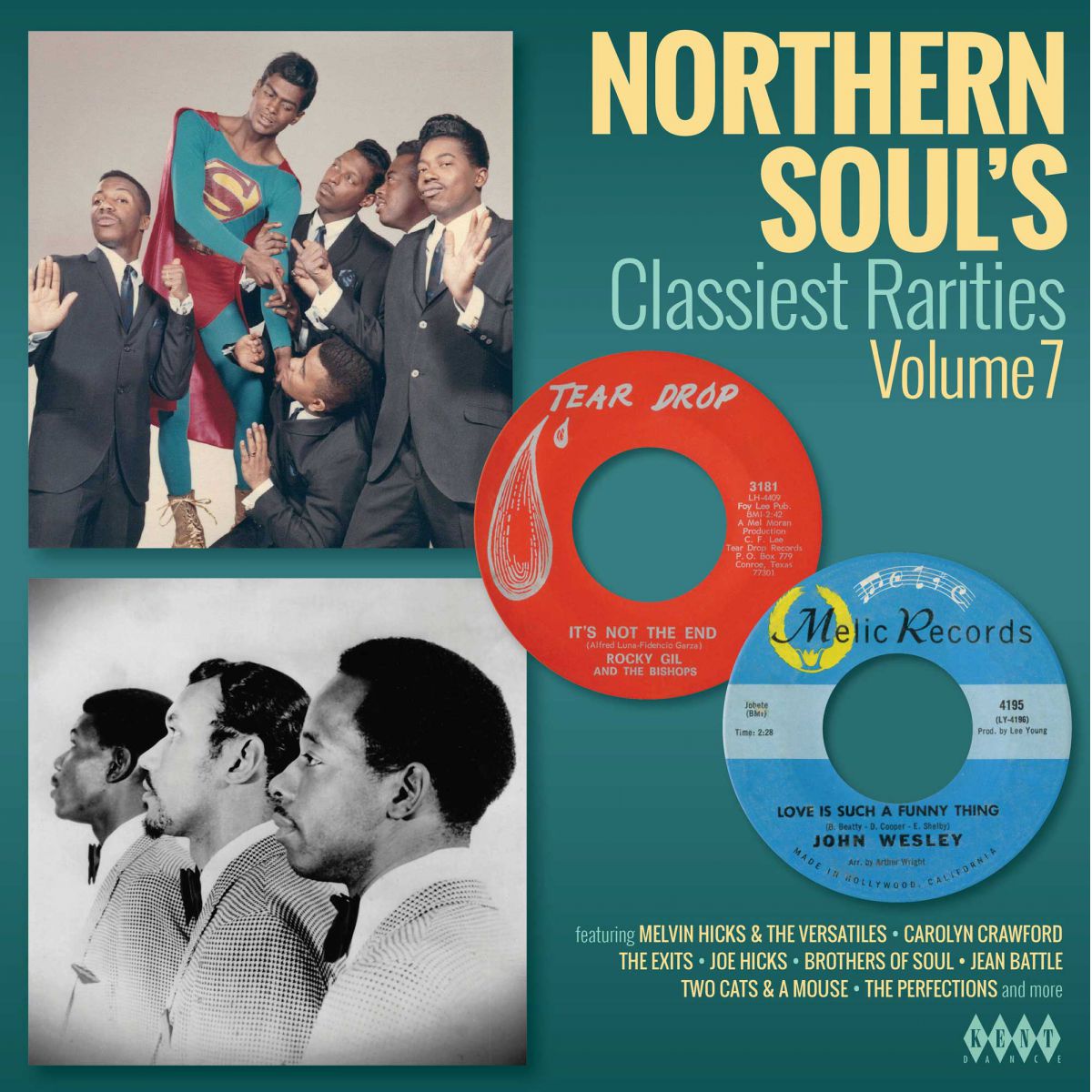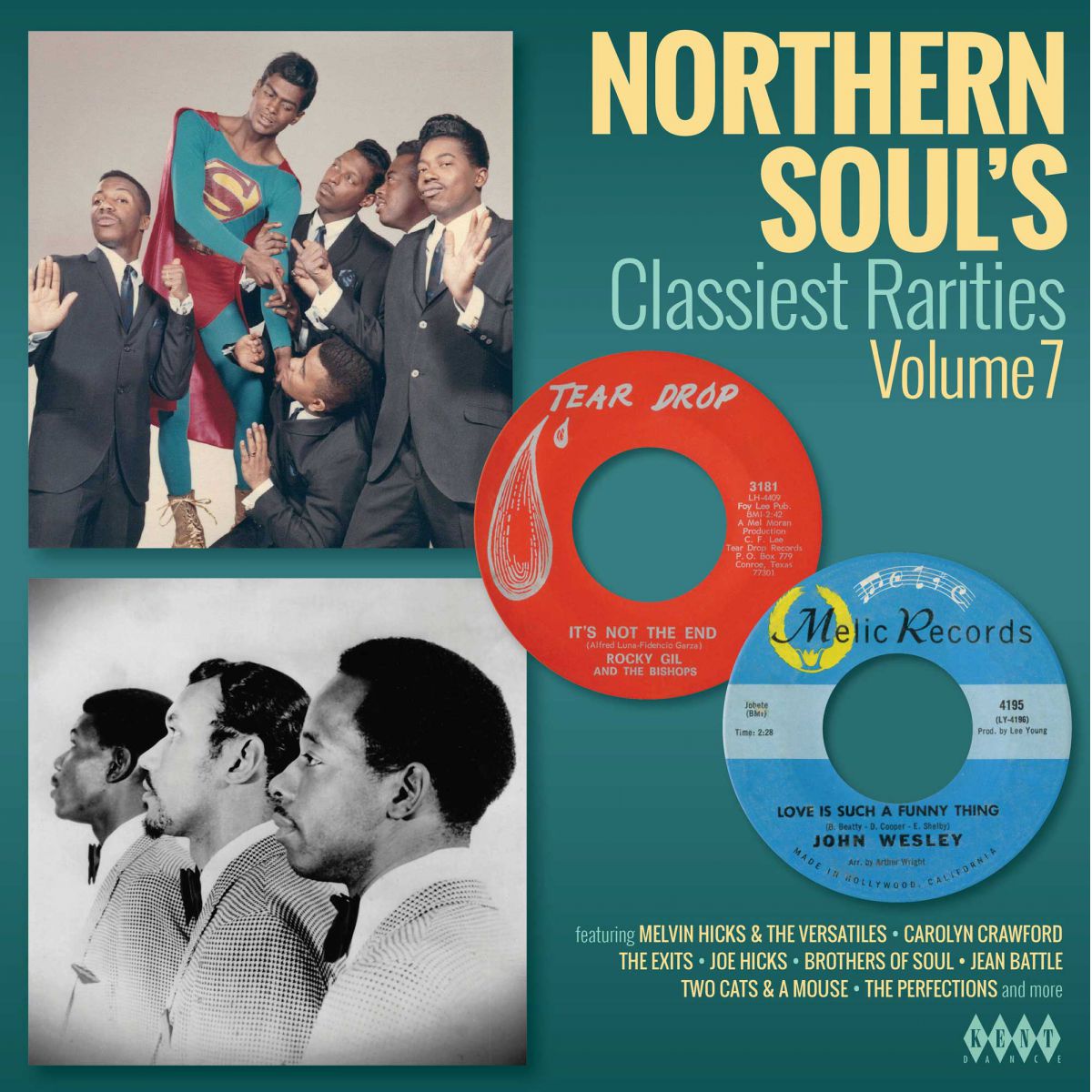 Various Artists
Various Artists - Northern Soul's Classiest Rarities Volume 7 (Kent)
$15.00
RELEASED: 26th February 2021
Format:  CD
Cat No:  CDKEND 498
This latest episode of the high-quality end of the Northern Soul world is as varied as the scene has become, featuring manic funk, Detroit grooves, doo wop-inspired ballads, neo-Motown and pure soul stompers.

Los Angeles features strongly throughout. As a taster of the pleasures to come over the next couple of years, the opening tracks by ex-Motowners Carolyn Crawford and Kim Weston, along with the Joe Buckner & Major IV number, are from Mickey Stevenson's late 60s Los Angeles operation; and the Lovers' acetate-only 'She's Supreme' and John Wesley & the Four Tees' stomping version of the Williams & Watson LP track 'Love Is Such A Funny Thing' were recorded under the aegis of the city's great arranger Arthur Wright.

Researching the tape vaults during lockdown has proved fruitful. The first version of Claude Huey's 'Why Would You Blow It' by the unknown Isaiah Smith was discovered among the Galaxy tapes, as was the Brothers Of Soul's 'I Need Your Love' – any previously unheard track by this redoubtable outfit is big soul news. I had originally thought that Buck Ram's group Two Cats & A Mouse would be 50s-sounding, like most of his acts, but 'Love In My Heart' proved to be a classy cover of the Oracles' 1967 rarity on OM.

Other soul legends include Major Lance with 'Girl, Come On Home' (the original flip of 'Since I Lost My Baby's Love') and the Exits' 'Under The Street Lamp', which epitomised the aspirations of black street corner vocal groups. Joe Hicks' 'Don't It Make You Feel Funky' is adrenalin-driven soul, adored by the Northern Soul crowd. Rocky Gil's 'It's Not The End' and Little Nicky Soul's 'You Said' are both mega-money items, but the rarest and most-desired track has to be 'The Intruder' by Melvin Hicks & the Versatiles, which was thought to exist only on acetate but is actually a missing number on a collectible soul label – all will be revealed.
TRACKLISTING:
1. READY OR NOT HERE COMES LOVE - Carolyn Crawford
2. IT TAKES A LOTTA TEARDROPS - Kim Weston
3. THE INTRUDER - Melvin Hicks and the Versatiles
4. SHE'S SUPREME - The Lovers
5. WHY WOULD YOU BLOW IT – Isaiah Smith
6. IT'S NOT THE END - Rocky Gil
7. IT'S MIDNIGHT - Harvey & Seven Sounds
8. YOU SAID - Little Nicky Soul
9. YOU DON'T CARE - The Esquires
10. I NEED YOUR LOVE - Brothers Of Soul
11. I WISH I KNEW - Joe Buckner & Major IV
12. I'LL FLY TO YOUR OPEN ARMS - Slick & The Family Brick
13. I NEED A TRUE LOVE - Ray Gant & Arabian Knights
14. DON'T IT MAKE YOU FEEL FUNKY - Joe Hicks
15. LOVE IS SUCH A FUNNY THING – John Wesley & The Four Tees
16. SOUL KIND OF LOVE - The Hesitations
17. CRAZY THINGS - Joe Douglas
18. LOVE IN MY HEART - Two Cats & A Mouse
19. FAREWELL GOODBYE MY LOVE (Edit) - The Performers
20. GIRL, COME ON HOME - Major Lance
21. I'VE GOT TO COME IN - Jean Battle
22. SO GLAD - The Lyrics
23. THE RIGHT TO CRY - The Perfections
24. UNDER THE STREET LAMP - The Exits