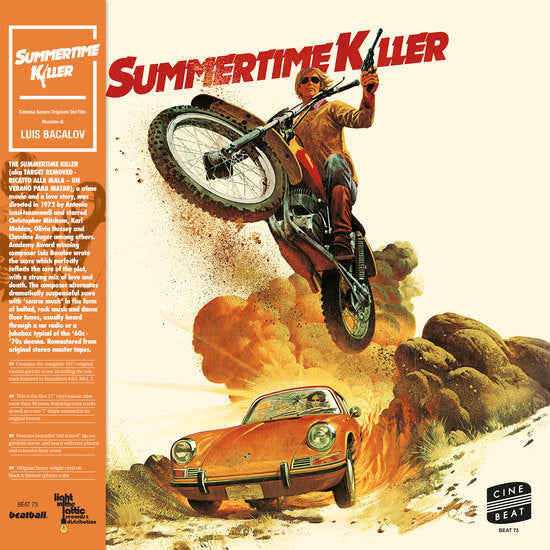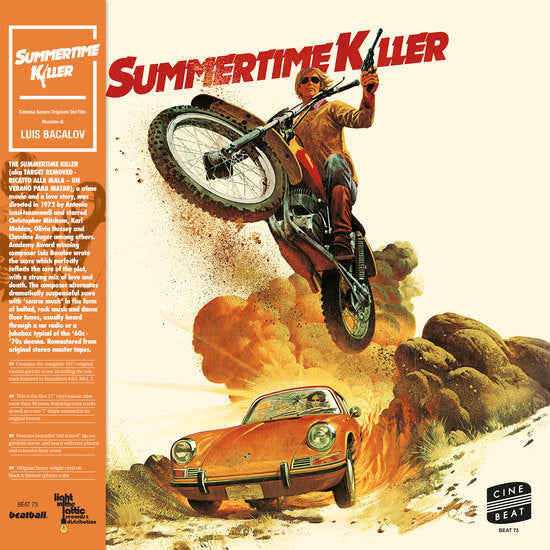 Luis Bacalov
Luis Bacalov - Summertime Killer (Beatball Records)
$26.00 $47.00
RELEASED: 2017
Format:  180g 'Black & Limited Splatter Colour' Vinyl LP (with Obi Strip)
Cat No:  BEAT-73
PLEASE NOTE: Small ding to one corner hence the sleeve is graded as Near Mint and priced accordingly.
The Summertime Killer, a crime movie and a love story, was directed in 1972 by Antonio Isasi-Isasmendi and starred Christopher Mitchum, Karl Malden, Olivia Hussey and Claudine Auger among others.
Academy Award winning composer Luis Bacalov wrote the score which perfectly reflects the core of the plot, with a strange mix of love and death. The composer alternates dramatically suspenseful score with 'source music' in the form of ballad, rock music and dance floor tunes, usually heard through a car radio or a jukebox typical of 60s and 70s cinema.
TRACKLISTING:
A1. Run And Run
A2. Like A Play
A3. The Summertime Killer
A4. Motorcycle Circus
A5. Lisboa's Tram
A6. The House On The Lake
A7. Like A Play
B1. The House On The Lake (# 2)
B2. Run And Run (# 2)
B3. The House On The Lake (# 3)
B4. The Summertime Killer (Lounge)
B5. The House On The Lake (# 4)
B6. Like A Play (# 2)
B7. The House On The Lake (# 5)
B8. Run And Run (# 3)
B9. Like A Play (# 3)
B10. The House On The Lake (# 6)
B11. Like A Play (# 4)
B12. The House On The Lake (# 7)
B13. Like A Play (# 5)
B14. Run And Run (reprise)