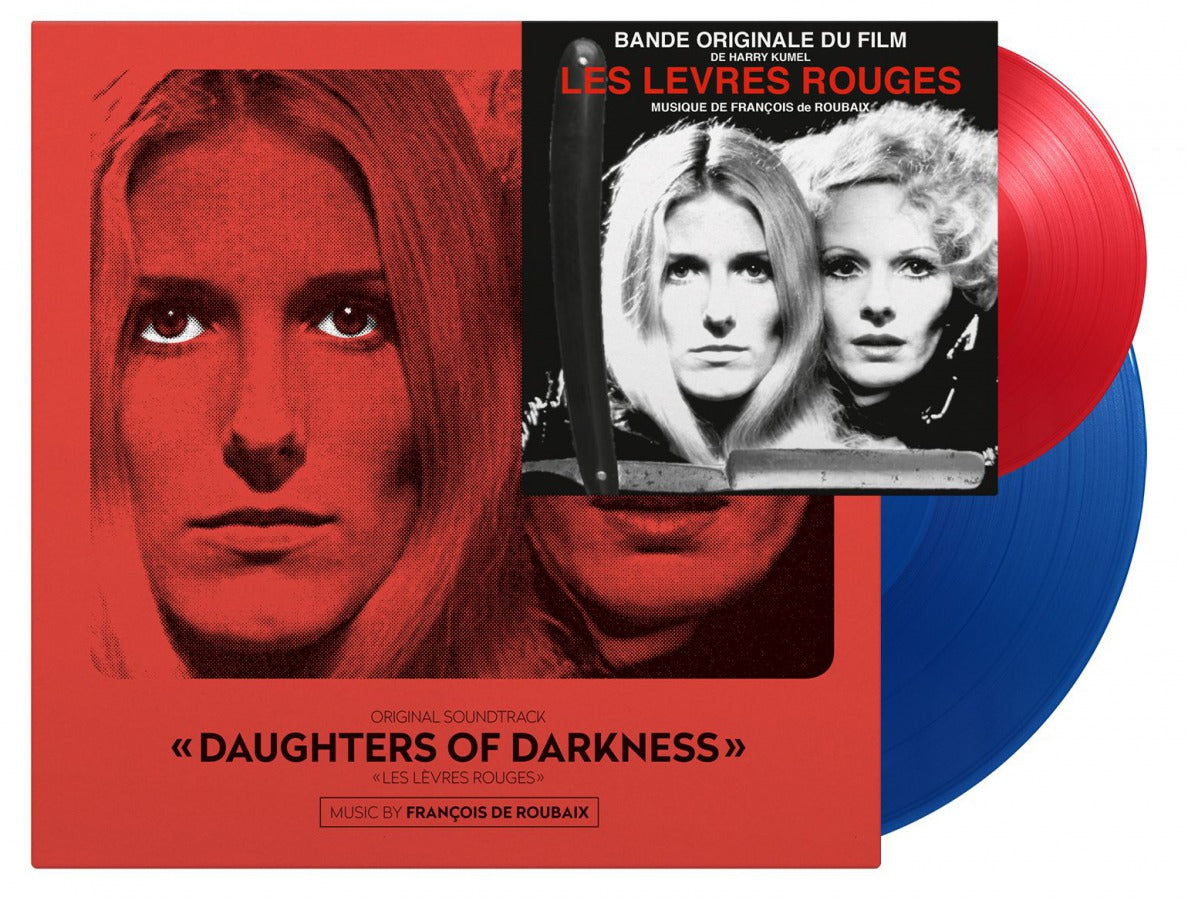 OST
Original Soundtrack - Daughters Of Darkness (Limited Edition Coloured Vinyl) (Music On Vinyl)
£32.49
RELEASED: 28th May 2021
Format:  Limited Edition 180g Blue Vinyl LP + Red Vinyl 7" Single
Cat No:  MOVATM288C
Daughters of Darkness is a 1971 English-language Belgian horror film. Directed by Harry Kümel this cult erotic vampire film stars Delphine Seyrig, Danielle Ouimet, John Karlen, and Andrea Rau. The film was well received, and a retrospective poll by Time Out in the early 2010s placed the film at number 90 in their top 100 horror films.

It's score was created by multiple award winning composer François de Roubaix. It has long been a much sought after title, with De Roubaix' son Benjamin commenting that the "composer achieves a perfect balance and the result is a bleak and eerie soundtrack that stands on a par with the music of Ennio Morricone in 'A Lizard in a Woman's Skin' or - in a different style - that of Isaac Hayes for 'Shaft'. Parts of the score would eventually be sampled by several hip-hop artists, including American rapper Lil Wayne on his song "President Carter".

With the help of director Harry Kümel and Patricia and Benjamin de Roubaix, the soundtrack is available on vinyl for the first time. This 50th anniversary edition of 666 numbered copies is pressed on blue vinyl and contains an exclusive poster as well as a printed inner sleeve. Plus, the package includes a 7 inch single (on red vinyl) featuring "Les Lèvres Rouges" and "Les Dunes D'Ostende, Flagellation".

TRACKLISTING:
1. Daughters Of Darkness (Opening) 
2. Love On The Rails 
3. Red Lips 
4. Arrival At The Manor 
5. Countess Bathory (Halo) 
6. Ballad In Bruges 
7. The Countess And The Inspector 
8. Tale Of Torture And Vampires 
9. Valérie, Ilona And Stefaan 
10. The Dunes Of Ostend, Flagellation 
11. The Countess Kiss 
12. The Countess Bite 
13. The Phantom Organ and Piano 
14. Pursuit On The Dunes Of Ostend 
15. Accident And Cymbalum 
16. Daughters Of Darkness (Ending) 
Bonus (Not Used In The Movie)
17. The Bruges Band 
18. Dracula 68 Woodstock (Of Fish and Men)